FREE TANKS AND WEIGHTS
Now before we all get too scared and start pressing on the back button to get off this page. Grey Nurse sharks aren't man eating creatures and this is something most scuba divers have known for some time.
Scuba divers around the world spend millions of dollars. To have the opportunity to dive with the Grey Nurse sharks at Flat Rock Stradbroke Island.
Diving Flat Rock off Stradbroke Island is one of the best dive locations near Brisbane. It is more known for its shark encounters with the Grey Nurse sharks and more commonly at the dive site called "Shark Ally". Shark Ally is located on the eastern edge of Flat Rock and can reach some deep depths. Advanced Adventure divers or Advanced Open Water divers certification will enjoy this deep dive at Flat Rock with the Grey Nurse sharks.
With depths getting as deep as 30 metres, it is common to have humpback whales breaching in close proximity around the boat. If you're lucky you may even get them under the boat. (What a way to spend your safety stop)
The Grey Nurse sharks are gentle predators and mainly feed on fish. Coastline in Sub-tropical to cool temperature water is where these creatures will be cruising. You'll find the grey nurse sharks swimming slowly along the seafloor at Flat Rock. Normally in masses during the colder months from June to October.
The endangered Grey Nurse sharks (there are roughly only 500 left on the eastern coast of Australia) travel from central southern NSW to the warmer waters off QLD to mate and gestate.
The easiest way to experience the Grey Nurse sharks, also known as the Ragged Tooth sharks or the Sand Tiger sharks. Is by descending down the anchor line and positioning yourself just off the sandy bottom of Shark Ally. Watch how these top of the food chain predators continue about their business without a care in the world and also not caring that you are there.
Other marine life you may witness are eagle rays, turtles, octopus, barracuda and other large and small tropical fish.
To dive Flat Rock with the Grey Nurse sharks off Stradbroke Island, is usually dived in the colder months of the year. During this time it has usually some of the best visibility and conditions.
Check out Scuba Shane Diving Facebook page.
Contact us today to book your next dive at Flat Rock Stradbroke Island with the Grey Nurse sharks.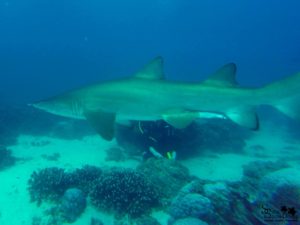 Call for enquiries or to book
Meet at Gold Cat ferry at 5.30am or 10.30am
Return to Gold Cat ferry at 1pm or 6pm
Pick up & drop off  from ferry included
Liability form completed
Provide proof of certification
Max depth 25 metres
Licence ferry for beer on the return trip
$139 double dive & $20 ferry
Free tanks and weights
Hire kits $70
Nitrox $30