Advanced Adventure Diver
(Advanced Open Water)
$479*
Brisbane Advanced Adventure Diver.
Well done in completing your learn to dive Open Water Course. The Advanced Adventure Diver will further your skills and experiences of the world under the sea that you have only just started to explore.
During your learn to dive Open Water Diver Course, you were taught the fundamentals of scuba diving with confined and open water diving. You clearly enjoyed the course because you are looking to extend your skill and depth with the Advanced Adventure Diver (Advanced Open Water).
The Advanced Adventure Diver also known as Advanced Open Water. This Brisbane two (2) day course with no confined, just open water dives with the mermaids.  The Advanced Adventure Diver will introduce you to five (5) speciality dive courses that interest you.
Deep and Navigation dives are compulsory, we will dive deep into using the compass and how we can use it to conduct search patterns. You never know you might need these skills to search and recover a lost mask or a weight belt that your dive buddy lost.
When we dive past 18 metres on the deep dive, I'll show you what happens with colours and certain depths and pressure changes.
When you successfully complete the Advanced Adventure Diver (Advanced Open Water). You will be issued with your certification card and with Scuba Shane Diving; you receive a FREE digital certification card for your electronic devices. With this, you will be able to dive down to a maximum depth of 30m.
The other three (3) course are of your choice. I do recommend Computer, Advanced Buoyancy and Nitrox dives but the course can be tailor made for you.  This is what makes my Advanced Adventure Diver so exciting and flexible. Upgrading to nitrox will allow you to dive longer before going into decompression limits.
After the Advanced Adventure course, you have at least nine (9) dives logged. Have a better understanding and more than likely have met some awesome people that you now call friends.
If you have, friends that are already certified Advanced divers or Advanced Open Water divers. I run social dives with the Advanced Adventure Diver course. Most dive sites are ready for you to conquer and explore with this certification, which include but not limited to HMAS Brisbane, Flat Rock and the rest of Cook Island.
Contact me for more information or to book.
Check out Scuba Shane Diving on Facebook.
Call for enquiries or to book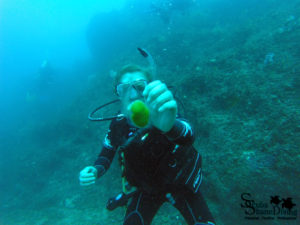 Deep Diver- Core
Navigation Diver- Core
Drift Diver
Advanced Buoyancy Diver (recommended)
Computer Diver (recommended)
Boat Diver
Shore Diver
Wreck Diver
Advanced Course Prerequisite
Two day course
Provide proof of Open Water Diver certification
Complete Liability form
Complete medical questionnaire
Submit theory workbook
Prepare for beer fines
Enjoy dad jokes