Computer Nitrox Diver Course
Nitrox Course are taught weekly
The Nitrox Diver Course (32% EAN) has to be the most popular Brisbane Scuba Diver Course. Nitrox is a gas used to limit decompression sickness, extend our diving time and have safer dive profiles. 
Nitrox allows us to do this by limiting the amount of nitrogen in our gas with blends from 22% to 40% oxygen. Although your depth is limited to your current diving certification, diving with Nitrox allows you to spend longer times underwater with a shorter surface interval. Furthermore, the course complements the Deep Diver Course. When we combine the Deep Diver and Nitrox Diver Courses we are able to extend our bottom time to the maximum depth of 40 metres.
Safety is always a priority, especially when we dive deeper than 18 metres. Furthermore, limiting the nitrogen will always keep our No Decompression Limits (NDL) within a safer margin. 
If you're swimming with manta rays at Manta Bommie or trying to photograph that shark we went diving for at Flat Rock, and would like to extend your dive time and reduce the risk, then the Nitrox certification is for you!
The Nitrox Diver Course can be taught with any Brisbane Scuba Diver Course. You can also join one of our social dives with EAN 32% for only $20.00 per tank!

FREE digital certification card

Standard plastic card

Extended bottom time

Shorter surface interval

A safer dive

Lower risk of decompression sickness

Not as tired (not proven)

Taught on any boat dive
AU$120
(plus social double dive cost)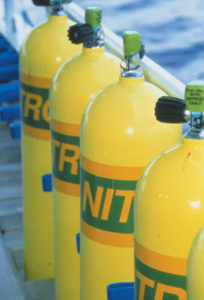 The Rescue Diver Course is Brisbane scuba diving course of choice and is known as one of the most enjoyable scuba diving courses. The course is taught over two days. Throughout the course, students will develop the knowledge and skills required to perform a rescue operation and assist in an emergency situation.
Scuba Shane Diving will teach you how to perform a self-rescue and a buddy rescue. Additionally, we will teach you how to conduct effective search patterns and manage an underwater accident. Further, the Rescue Diver Course is a lot of fun!
Please note that Rescue diver certification is a prerequisite for all professional diving training.
For further information see the Rescue Diver Course page.
Students will need to provide proof of current CPR, First Aid and Oxygen (O2) Provider certification. Scuba Shane Diving can organise this for an additional A$100.
You will also need to provide proof of SDI Advanced Adventure Diver certification, or equivalent. Alternatively, you can provide proof of your open water diver certification and 40 logged open water dives.
Finally, students will need to purchase a pocket mask for training.
FREE digital certification card

Standard plastic card

ALL equipment included – excludes pocket mask
Searching techniques
Diving Lifesaving techniques

Become a safer dive

Lower risk of decompression sickness

Hyperbaric Injuries and Management
Accident Management
Divemaster Course (DMT)
Next DMT Course
Contact for dates
Would you like to take your diving to a professional level and make an awesome career out of it? If so, our Divemaster course is for you.
Becoming a professional scuba diver can be one of the most rewarding things to do in your life. Once you open the doors to becoming a professional scuba diver, you will have the adventure of a lifetime leading Brisbane scuba diving courses. Additionally, you can travel the world as a professional diver and even run your own scuba diving training facility.   Divemasters are in great demand around the world. Further, they are usually leading guided tours or helping with Brisbane scuba diving courses for Scuba Shane Diving.
The Divemaster course includes 10 dives; 6 of which are boat dives. Therefore, our Divemaster course is the best value for money in Brisbane.
Further information can be found on the Divemaster Course page.
You will need to provide proof of 40 logged dives prior to enrolling in the Divemaster course. Further, before obtaining your Divemaster certification, you will need to provide proof of a total of 60 logged dives, ten of which will be completed as part of training.
SDI membership and insurance.
Dive medical and any transport incurred during the duration of the course.
Scuba diving equipment. Please note that as a Divemaster you should have your own gear.
SDI Deep Speciality course – note required but recommended.
SDI Night Speciality course – not required but recommended.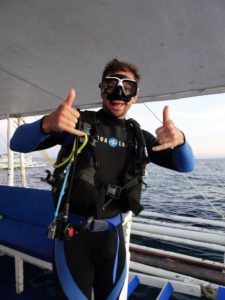 The purpose of this course is to train you to acquire the skills and knowledge required to execute your dive to a maximum depth of 40 metres. The Deep Diver Course is taught over 2 dives, which makes this a very convenient Diver Course for your time.
Dive 1 is to a maximum depth of 30 metres.

Dive 2 is to a maximum depth of 40 metres with an emergency scenario incorporated.
However, Scuba Shane Diving not only cover the minimum requirements. We also incorporate the following skills: 
The use of dive computers to plan your NDL.  

Deployment of a surface marker buoy at depth.

A variety of depth games.

A better understanding of Nitrox

Further, you will come away from the course with a good understanding of decompression sickness. 
Importantly, I only teach the Deep Diver Course with a maximum of 4 students, which means you get a more personalised experience in your course. The Deep Diver Course is normally taught at North Stradbroke Island and all equipment is included in my very competitive price.
If you feel you haven't pushed yourself then I invite you to the Deep Diver Course so you can explore greater depths of our undiscovered oceans! 
Have you got your Nitrox Diver certification?
Why don't you combine the Nitrox Diver Course for an additional $120 and extend your dive time with a shorter surface interval? And more importantly, a safer dive with less chance of decompression illness.
What price can you put on your health?
FREE digital certification card

Standard plastic card

All equipment included

Course taught in one day (2 dives)

Deep dive at Blue Corner – special dive site

Relax environment

Small class ( max of 4)
SDI Open Water Scuba Diver, SDI Junior Open Water Scuba Diver, or equivalent.

Minimum age 18, 10 with parental consent.



Nitrox (EAN) certified.
Transport to Gold Cat Ferry
ALL EQUIPMENT is included in the already low price
AU$449
Nitrox upgrade AU$569
Do you wish to explore the underwater world at night? If so, our Night Diver Course is for you. Trust us, you will be amazed at the different environment that hides in the ocean at night. The ecosystem is alive with wonders! Just like a nightclub that plays that favourite song, scuba diving at night may be completely different but the fundamentals of scuba diving remains the same.
Diving at night will not only improve your skills, it can also introduce you to new skills and equipment. Torches are required for night diving. However, like all Scuba Shane Diving course, all diving equipment is included in the already low cost. Additionally, you need to consider light discipline and torch redundancy. This course teaches you additional skills, such as navigation, buddy systems, communication, buoyancy control and wildlife interaction. The course is dependent on high tides. Usually, the Night Diver Course is conducted at Tweed Heads or the Gold Coast Seaway. The Night Diver Course includes two dives. Therefore, it can be completed in one night.
FREE digital certification card

Standard plastic card

ALL equipment included

Course taught in one night (2 dives)

Relax environment

Small class ( max of 4)
Open Water Diver, Junior Open Water or equivalent

Minimum age 18, 10 with parental consent

Transport to Tweed Heads

ALL EQUIPMENT is included in the cost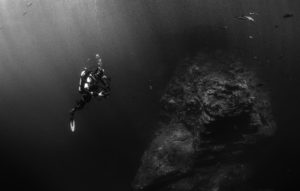 The Wreck Diver Course covers the planning, techniques and hazards of wreck diving. Additionally, we cover how to prepare torches and wreck reels; both required for limited wreck penetration. Further, the course teaches you how to map out the wreck, as well as how to navigate the outside of the wreck and identify entry and exit points.
The Wreck Diver Course is conducted during a double dive at the ex-HMAS Brisbane. Also, you have the option of choosing to complete a third and fourth dive, which grants you the limited penetration certification. Although this certification comes at an additional cost, it offers more exposure to limited penetration and the correct use of wreck reels. In particular, this additional certification is recommended if you are planning on completing a technical course.
We will return to the bay during the surface interval. Here, you will be served coffee and tea with some food. This break allows us to debrief the dive, as well as explain the limits of limited penetration.
Finally, you can choose to combine this course with Nitrox Diver Course. In particular, this is the most popular specialty diver course we offer.
First Aid Courses
First Aid course are taught with the Rescue Diver Course
Bring your First Aid and CPR training into the 21st century with Scuba Shane Diving!
Adult, Child & Infant Emergency Courses and O2 Administration Course are taught by Scuba Shane Diving. Furthermore, these courses have been designed for the first responder and scuba divers.
These courses combine cardio-pulmonary resuscitation (CPR), emergency oxygen (O2), automatic external defibrillator (AED) and basic first aid. Additionally, these courses are taught with video-based eLearning in conjunction with SDI standards to train any layperson or rescuer. However, Scuba Shane Diving adds extra skills that have been acquired as part of Shane's 10 years experience as a first responder in the emergency service.
First Aid is required for your rescue scuba diver course and divemaster internship. Further, it needs to be redone every 2 years. At the end of these courses, you will be qualified to:
CPR administration for children, infants and adults

AED use for children and adults.

First aid for possible workplace incidents.

First aid for common injuries.

Be able to administer O2 to a breathing or non-breathing person
Please note that you must provide your own pocket mask.
Bloodborne Pathogens Course is not included but can be purchased for an additional A$60.

Other Brisbane Diver Courses on offer at Scuba Shane Diving
Navigation Diver Course(2 dives)
Advance Buoyancy Diver Course (2 dives)
Side Mount/ Solo Diver Course (2 dives)
Underwater Photographer Diver Course (2 dives)
Search and Recovery Diver Course (2 dives)
Drift Diver Course (2 dives)
Contact us for more information on Brisbane diver courses and pricing.
Had an absolute blast. Shane is a great instructor with the perfect balance of humour and seriousness! Can't wait to join another one of his dive trips! Just beware of the beer fines haha!
Shane works hard to make sure all his instruction and goals of the course are clear and members are well prepared. Great course!